Prof. Sumathy P, Vice Principal and Head, Dept.of Child Health Nursing, KGNC was awarded the Eminent Teacher Award by Scientific and Academic Foram of SBV for being a Role Model for teaching fraternity at SBV, during the Teachers' Day celebration on 5th September 2020.
Dr.Renuka.K  Principal , KGNC was elected as a  State Vice President  for the Nursing Teachers Association,  Pondicherry Branch  by  The Nursing Teachers Association, India.
Dr. Renuka. K,  Principal, Kasturba Gandhi Nursing College, SBV, Pondicherry , received a  Best Principal award 2020 from Institute of Scholars (InSc)  in recognition of valuable contribution to the academic community and students.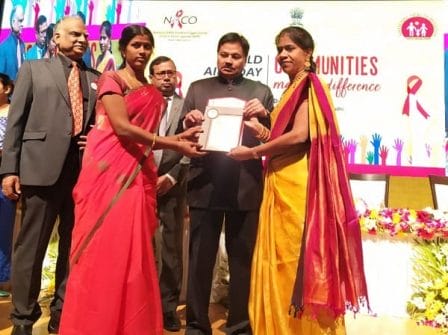 National Aids Control Organization of India (NACO) and Ministry of Health and Family Welfare organized  a grand Event on National Best Award Felicitation Event-2019 with theme of "Communities make the difference" as India's voice against AIDS on  Observance of World AIDS Day 2019 at Kedarnath Sahni Auditorium in New Delhi on 1st December 2019. In that prime event, Red Ribbon Club of Kasturba Gandhi Nursing College received  the National Award for Best Red Ribbon Club among  various educational Institutions under Pondicherry AIDS Control Society, Puducherry and also the prideful Best RRC award was received by Dr. Renuka K Principal & Programme Organizer, RRC, KGNC & Mrs. Umamaheswari.R ,Secretary, RRC, KGNC. Dr.Govindarajan, Project Director, PACS appreciated the institution received the Felicitation Award. 
Tamilnadu Nurses and Midwives Council celebrated it's 90 the
Anniversary of International Nurses Day on 12th May 2018, at
Dr.M.G.R Medical University, Guindy, Chennai, Where the first National
Conference was inaugurated during that occasion, The Nurses were
awarded under various categories by the Tamil Nadu Nurses and
Midwives Council. Among those, Dr.Renuka K, Principal, KGNC was
awarded as "The Best Nurse Administrator" for all over Tamil Nadu &
Puducherry by his Excellency Banwarilal Purohit, Honorable Governor
of Tamil Nadu.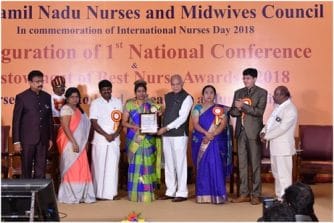 Kasturba Gandhi Nursing College was recognized as the fifth place in Top Ten Promising Nursing Colleges all over  India-2017
During NIRF Ranking -2018 (National Institute Ranking FrameWork) the SBV University ranked 72 among all University categories in India.
Kasturba Gandhi Nursing College RRC Team received Second place in Skit competition on World AIDS Day 2015 from Pondicherry Aids Control Society(PACS).
The Red Ribbon Club team of KGNC, Puducherry received first prize for being an active RRC team for the year 2015 – 2016 in the region of Puducherry from Pondicherry Aids Control Society(PACS) on International Youth Day- 2016. The RRC Team of  Kasturba Gandhi Nursing College, Puducherry was recognized as the first place in being an active RED RIBBON CLUB from 2015-2016 in Region of Pondicherry. 
Kasturba Gandhi Nursing College, Puducherry received the Best Active Participating Institution Award in yogasana Quiz competition on 25th International Yoga Festival from Directorate of Puducherry, Govt of   Puducherry. 
Kasturba Gandhi Nursing College, Puducherry received the Best Eye Camp Conduction Award 2016 from Lions Club Pondicherry Excellence, Puducherry. 
Kasturba Gandhi Nursing College NSS Team received the Top ten Best performing NSS Unit at State level from Pondicherry NSS Unit in 2017, Also Mrs. Elavarasi, NSS Programme Officer received Best NSS  Programme Officer for the Year 2018 in all over Puducherry Region